At Big Leap Consultancy, Our recruitment services are designed to help your business find the best candidates for your open positions. Our experienced recruiters focuses on delivering smart, resourceful solutions that meet the unique needs of your business.
Our experienced team of recruiters takes the time to understand your business, culture, and values to ensure that we find the best candidates for the job opening. We use targeted recruitment strategies and comprehensive screening to deliver the most qualified and compatible candidates to you.
We help you find the right fit for your smart team by providing end-to-end permanent staffing solutions. Our process includes job profiling, candidate selection, interviewing, offer management, and onboarding. Are you trying to search the top recruitment consultancy in Gurugram?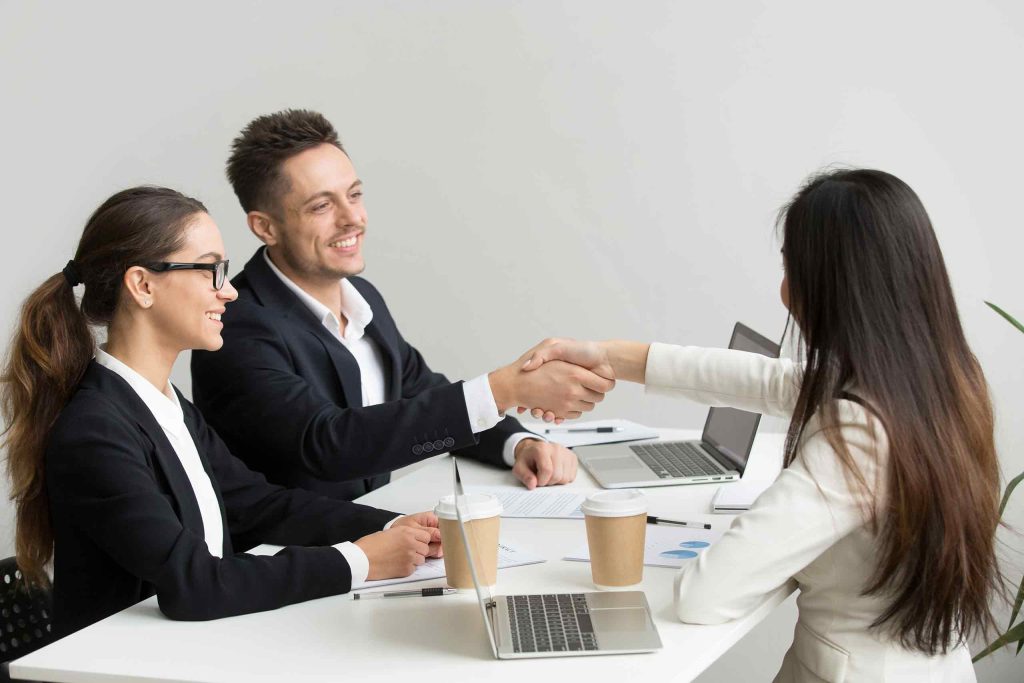 We specialize in executive search services for senior management positions. Our process includes mapping the talent landscape, identifying potential candidates, and providing comprehensive assessments to ensure the perfect fit for your organization. Human Resource Management, otherwise known as HRM or HR for short, is the function of people management within an organization. HR is responsible for facilitating the overall goals of the organization through the effective administration of human capital — focusing on employees as the company's most important asset.
Recruitment is the first step in building an organization's human capital. At a high level, the goals are to locate and hire the best candidates, on time, and within budget.
There are several types of recruiting. Here's an overview:
Internal Recruiting: internal recruiting involves filling vacancies with existing employees from within an organization.
Retained Recruiting: When an organization hires a recruiting firm, there are several ways to do so; retained recruiting is a common one. When an organization retains a recruiting firm to fill a vacancy, they pay an upfront fee to fill the position. The firm is responsible for finding candidates until the position is filled. The organization also agrees to work exclusively with the firm. Companies cannot, in other words.
hire multiple recruiting firms to fill the same position. Contingency Recruiting: like retained recruiting, contingency recruiting requires an outside firm. Unlike retained recruiting, there is no upfront fee with contingency. Instead, the recruitment company receives payment only when the clients they represent are hired by an organization.
Also Read:- 

Shop and Establishment Compliance company in India
Why We: Generally placement services are very common where candidate's profile is shared with hiring company and based upon shortlisting, interviews are set-up. Considering the complex market, one is looking for more than just sharing profiles. Once the profile is submitted and picked up by our recruitment team, we will be first conducting an initial interview through which facilitator will understand the profile fully and suggest updates if any. Facilitator will also provide market inputs and current job availability in specific area of interest. Before sharing the profile with client, facilitator will share the job description and level of interest. Facilitator will work with client and provide all the relevant information regarding candidate. Upon shortlisting the profile, facilitator will provide inputs regarding expectations from clients to help individual prepare for interview.
Under these services we will be offering information around market, suggest updates in profile based on initial interview which facilitator will conduct.
Outplacement Recruiting: outplacement is typically an employer-sponsored benefit that helps former employees transition into new jobs. Outplacement recruiting is designed to provide displaced employees with the resources to find new positions or careers.
Note:- Call us today for a free quote or demo on payroll compliance services in India.